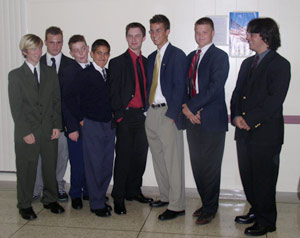 Our Lady Queen of Peace Knights of Columbus Council 11680 established a new youth group called Columbian Squires with a formal investiture ceremony at Our Lady Queen of Peace Parish Hall on Saturday, August 2, 2003.
The new Squires Circle now has 8 members with six more to be invested on August 16, 2003.
On hand at the ceremony were dignitaries, State Squires Chairman Don Goolesby, State Family Activities Director Kevin McMahon, St. Petersburg Diosece K of C Charities Director Ed Gongola, District Deputy 25 Tony Nalli, Grand Knight Bill Huber and Fr. Joe Pastick. The Investiture Team consisted of Nick France, Joe Beraducci, Matt Higgins, Lou Morganti, Nim Goering, Deacon John Liggin and Joe Schalk. Former Squires Leader, Lee Whitt ran the event's food and refreshments with help from his wife Helen, Marie Davidow and the Columbietts.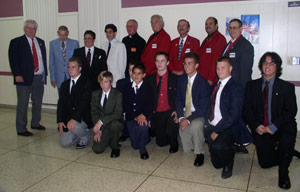 The Columbian Squires are the official, all young men, youth group of the Catholic Fraternal Organization, Knights of Columbus. Over 1,000 Circles exist throughout the United States, Canada, the Philippines, Mexico, Puerto Rico, and Guam. Last year, Circles donated more than $300,000 dollars in charitable contributions and volunteered over 450,000 hours of community service.
It's different than a lot of other competing BDSM sites because it's actually a social network, rather than a real dating site. Cougars are confident and mature women who know what they want in relationships and pursue them, irrespective of whether society thinks it's taboo for a cougar black BBW porn site to date younger men and women.
The Squires will run activities that center around four major areas, spiritual, service, circle, and membership. In order to assist the Squires in achieving their objectives, the Grand Knight of Our Lady Queen of Peace Council 11680, William Huber has appointed three adult counselors as assistants to Chief Counselor Nicholas France. They are Joseph Beraducci, Linus Palubinskas, and Matt Higgins. The Circle's Father Prior will be Rev. Joseph A. Pastick.
The Squires will meet on the third Saturday of each month at Our Lady Queen of Peace Catholic Church at 5 p.m.